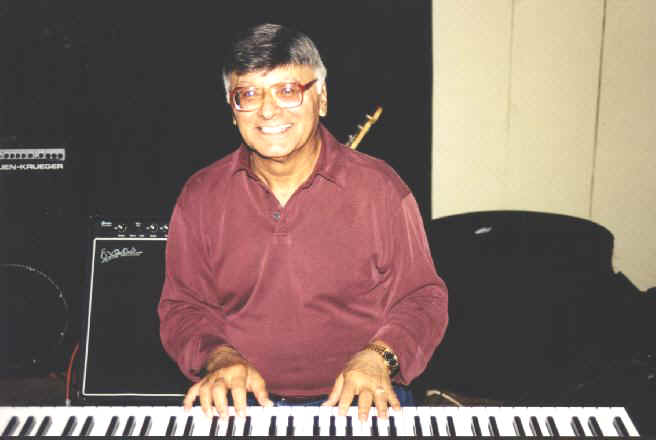 I was born in Baton Rouge, La., but grew up in Port Arthur, Texas where I went to school. I began studying piano at an early age with lots of encouragement from country music great Moon Mulligan who was a friend of the family. Early musical education was concentrated on the study of classical music, but this ended when I began my high school years and replaced with a "burning desire" to be a professional musician and to be proficient in all styles of music.
Throughout my high school years I worked with many of the great area musicians such as Deacon Anderson, the author of the hit song "Rag Mop". We worked many of the clubs in the area where I began to "pay my dues" in the music profession.
After high school I entered the U.S. Air Force and was stationed in Denver, Colorado where I played piano in the Air Force Band Of The West. We performed primarily in the western portion of the United States. While in the Air Force band we backed many performers from all walks of music. A highlight for me was when I was chosen to play piano accompaniment for the reigning Miss America in 1958, Miss Marilyn VandeBur who was performing at the Denver Arts Theater.
After returning home I worked the Ramada Inn circuit for fourteen years where I had the privilege of working with many artist such as Willie Nelson, Jim Reeves, Don Merrideth (of Dallas Cowboy fame) and Billie Jo Spears, who I grew up with, and many more fine artists.
During this time frame I worked as a studio musician for Verve Records recording with many fine artists. One such artist was Dickie Lee who did the original recording of "Patches" which went very high on the charts in the U.S. and ultimately to number one in Europe. I had the privilege of doing the keyboard work on the original recording.
In 1986 I was introduced to the world of steel guitar shows by a long time friend, Terry Simpson, who owns a music store in Nederland, Texas. Terry had a great steel player by the name of Herby Wallace coming in to do a seminar at his store and he asked me to play piano on the "jam" portion of the seminar. Herby and I hit it off immediately and he asked me to go to Dallas the following weekend to play on his portion of the Texas Steel Guitar Association show. I went to Dallas and from this show I began to be asked to be the staff keyboardist at many other shows across the country such as the International Steel Guitar Convention in St. Louis,Mo., the
TSGA show in Dallas,Tx., and the Smokey Mountain Jamboree in Knoxville, Tn. Also the shows in Atlanta, Ga., Tulsa, Ok., Hot Springs, Ak. and many more.
I have worked with many of the steel guitar greats such as Buddy Emmons, Pee Wee Whitewing, Jimmy Day, Doug Jernigan, Herby Wallace, Hal Rugg, Paul Franklin, Ron Elliot, Junior Knight and many, many more over the years. Many of these steel guitarist are in the Hall of Fame and I am very proud to say they are my friends and fellow musicians.
Also in more recent times I have worked shows with many great country artists such as Steve Wariner, Janie Fricke, Marty Stuart, Vince Gill, Jack Green, Johnny Bush and Darrell McCall just to name a few. On the "pop" side I have worked shows with Tony Bennett and on the "R & B" side with Chuck Berry.
I have been spending some of my time lately in studios playing keyboard on recordings of various artists in the Houston, Texas area.
I have been married to my lovely wife Barbara since 1985. We have five children between us and we have eight grandchildren of which we are very proud, and who are the "apple's of our eyes".
Barbara and I are very thankful for the many friends that we have made all over this country through the wonderful world of music.