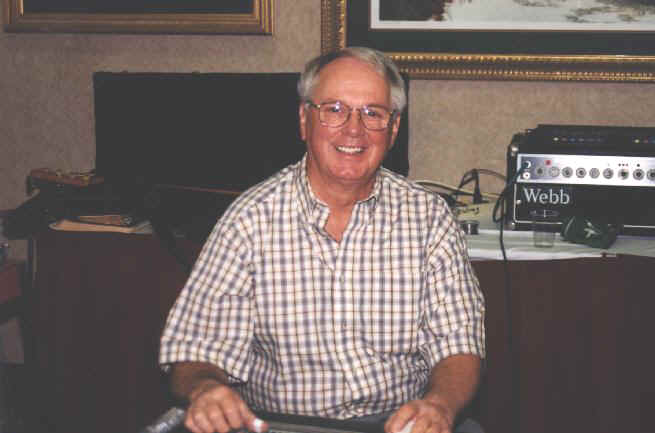 This is an article that Pee Wee wrote in response to a query by a steel guitar publication a few years ago where he wrote about his early days in some detail. This was originally published by his son Andrus Whitewing on the
The Steel Guitar Forum
Dear Tom: February 28, 1995
Pursuant to our recent telephone conversation I am writing a few comments that I think will enlighten you as to the Hank Thompsons Brazos Valley Boys band days in the 50's. I talked with Bobby White and Bobby Black today to make sure my statements were correct and they concurred with the following.
I believe that first I should like to give you a brief history of my early life and you will have the total picture.
I was born in the Kiamishi Mountains of Oklahoma near a community called Conser, Oklahoma on Feb. 11, 1934. We moved to a farm called Griffins Farm north of Muskogee, Okla. when I was 5 yrs. Old. My Dad traded a cowhide for a used Radio that faded in and out and it was difficult to get a total 15 minute broadcast without some type of interference. However it enabled me to hear the Grand O'l Opry on Saturday nite and Bob Wills & The Texas Playboys on KVOO Tulsa, OK. at noon everyday.sponsored by Playboy Flour, Co . .
In the year 1941 we moved to California and worked picking Cotton, Prunes, Apricots, Cherrys, Walnuts, everything immaginable and finally settling in the Santa Clara Valley in a little town called Campbell, California. We located on Gilman Avenue where I recall there were 18 two room Cabins rented to Okies and Arkies and a few people from Texas. It was about 1/2 mile from the Railway Avenue Pentecostal Church where I started playing the Steel Guitar along with the Church Band. I remember a young lady maybe two years older than me ( about 12 years) . Her name was Roberta Garrison that played a Rickenbacher 6 string that was chrome plated just like mine I was facinated by the beautiful tone she had and did my very best to duplicate it.
My first Steel Guitar was given to me by a Steel player by the name of Roy Honeycutt whose wife Dot worked in the fields with us and became good friends with my parents. Roy worked nights playing with Tex Randalls band at the Sequoia Club in Sunnyvale Ca. and at Tracy Gardens in San Jose . He later went to work with Bob Wills taking the place of Noel Boggs. Roy played very well and was a tremendous influence to my early music career. Roy Honeycutt worked later with Luke Wills as Bob had split the band up to form the Luke Wills Band. They moved to Fresno, California and had a daily broadcast on one of the Fresno Stations that I could hear in San Jose.
I also remember a fiddler that played with Luke that I thought was great by the name of Bobby Bruce. I later ran across him in Tulsa, Oklahoma playing with Leon McCauliff when I worked with Hank Thompson. I always regarded Leon and his group as one of the best rehearsed groups I ever heard. Their arrangements were terrific. Bobby Bruce played the fiddle course on the Panhandle Rag.
By-the-way Herb Remington took Roy's place with Bob Wills and he tells a story of me selling flowers to get in the Balconades Ballroom in San Jose to hear him play. Its a true story. My brother and I saw this boy outside about our age with all these flowers and agreed to help him sell all of them just to get in free. I remember we had picked Walnuts all day and were somewhat embarrassed about the stains on our hands.
Until I was 16 we spent a lot of time in the fields and at noon there was a radio program on a station in Oakland , California with 3 hours of nothing but Bob Wills and the Texas Playboys all transcriptions played by Cactus Jack. My father I think realized that I had potential musically and allowed me to listen everyday on the truck radio. I memorized a lot of courses played by Roy, Noel and Herb. and later that year in 1946 I went to work with Tex Randall and the Texan's.
We had a daily broadcast on Radio KEEN 1370 on your dial in San Jose located in the old De Anza Hotel on Santa Clara Street. We played Sat. Nites at Tracy Gardens and sometimes at Maple Hall in San Pablo, Ca. This was indeed exciting for a young boy like me. It also paid a lot more money than working in the fields.
I later went to work with the Cal Schrum show and every Saturday nite we played a big show at the civic auditorium in downtown San Jose, Ca. On this show we had a guest movie star every week which gave me a chance to meet people like Smiley Burnett, Gene Autry, Tex Ritter, Jimmy Wakely, and many others.
I graduated from the Campbell Grammar and Campbell High Schools playing music and trying to keep up my school activities.
I also would like to mention a part of my life that I consider to be very dear to me. While I was in High School I met Bobby and Larry Black , two brothers from San Meteo, CA.. Bobby played steel guitar and Larry the guitar. They played harmony parts like you've never heard. We would meet at each others house and work up tunes to play and one of these tunes was Hill Billy BeBop that was written and recorded by Eddie Hill of Nashville, Tenn.
After hearing this tune I wrote to Eddie Hill , sending him a home recording of my playing. He responded and told me that he only formed groups to record and play special concerts and since I was so far away it would be hard to make it work. I felt he was just being nice since he had better choices in Nashville and I was a bit young at 15 .
I took a job later with Shorty Joe playing at Tracy Gardens on Sat. Only. Shorty Joe booked stars like Hank Williams, Tex Williams, The Maddox Bros. & Rose, et al and thru the association with Shorty's band I met Joaquin Murphy, who came to Tracy Gardens with Tex Williams Band, Joaquin had also been playing a radio show with Andy Parker and the Plainsman , doing an Album with them and I would consider this to be the best work ever by Joaquinas it gave him more of a chance to exploit his talent. He did such things as Honeysuckle Rose, Sweet Georgia Brown, Throw a Saddle on a Star, and there was others that were absolutely fantastic. Joaquin was to me a nice easy going person, however I've heard others say different. I think his style of playing was definitely a mixture of the best jazz and the best slow sweetest sounds all times. He and Noel Boggs were the most copied steel guitar players for many years.
I also met Dusty Stuart, who came to Tracy Gardens with Hank Thompsons Band who could play the Sugar Foot Rag , Devils Dream and many other fast pickin tunes, he has played in Houston, Texas with the River Road Boys for a number of years.
Roy Nichols , with the Maddox Bros. & Rose, who as you know played many years with Merle Haggard. Others I met at Tracy Gardens were Johnny Gimble, Keith Coleman, Bob White , Joe Holley all fiddle players with Bob Wills and I have had the honor of working with most of these players at various times thru the years.
While I was playing with Shorty Joe I backed up Lefty Frizzell at Tracy Gardens who had brought only the fiddle player of his band and used our group to assist. The fiddle player was Abe Manuel from Lake Charles, La.. He liked my playing and said that when I finished High School to give him a call. This I did, I finished School in May of 1951 at the age of 17 and called Abe who got me the job with Blackie Crawford and the Western Cherokees backing up Lefty Frizzell, Ray Price, Johnny Recter, Danny Brown and others. This was a very solid well rehearsed group and was kicks to play with. I took the place of Harold (Curly) Chalker who was the one of the best players of that time and had took a job with Hank Thompson. By the way it was Bobby Black that took my place with Shorty Joe and also Blackie Crawfords band backing up Frizzell et al.
After working with the Frizzell group for a while I received a call from Billy Gray manager of the Hank Thompson Brazos Valley Boys. He said Curly Chalker had been called to do a hitch in the Armed Forces and that he would like to hire me. I took the job not because I was dissatisfied with the Cherokees but wanted to expand on my playing abilities and by working with other musicians I could gain the experience that would make me better at my trade. It was Billy Gray who hired me and gave me a chance to work about 2 months with Curly to learn the arrangements before he left for the service and it was a terrific experience. To Curly there was nothing that couldn't be done on a steel guitar, and he gave me a confidence like I had never had before.
Curly had cut sessions with Lefty Frizzell such as "Always Late", Mom & Dads Waltz, and others. Curly had replaced C.B. White . He was the older brother of Bob White. The first four tunes recorded by Lefty were hits and the Steel Guitarest was C.B White. I recorded some with Lefty along with Johnny Gimbel, fiddle, Tony Hall,Guitar, Jimmy Dennis, drums, Madge on piano, Blackie Crawford playing rythm and others. I for the life of me can't remember even one of the tunes, however I can remember the little riff that Johnny, Tony, and I played on one of the tunes with Mandolin, Steel, and Guitar.
Curly also played on the Wild Side of Life , Waiting in the Lobby of your Heart, Cryin in the Deep Blue Sea, and How Cold Hearted can you get by Hank Thompson recorded around 1951.
I cut my first session with Hank in 1952. Some of the tunes were Rub a Dub Dub, I'll sign my Heart Away, Swing Wide Your Gate of Love, I'd have never found somebody new.
We later that year recorded John Henry, The Blackboard of my Heart, No Help Wanted, Yesterdays Girl, and many others . In 1953 I decided to quit, and left the band for total of six months and before leaving Bobby White took my place, but before as always Billy Gray wanted the transition to be smooth from one player to the other, so insisted that I stay on for a couple of months for Bobby to get use to the arrangements just as Curly had done for me. During this time Bobby and I hit it off real well, he had just come off Bob Wills Band and brought new ideas for arrangements with him. We worked very well together and complimented each others playing with totally different ideas and being lovers of Big Band Sounds we were able to put together some nice arrangements.
I left for six months in 1953 and Gray called me to come back to work as he wanted to pursue the Big Band Sound. We immediately recorded several albums that included tunes like String of Pearls, Dardanella, Jersey Bounce, Red Skin Gal, Westphalia Waltz and many others. Bobby White and I cut many records in the 1950's together that Hank sang such as We've gone to far to turn back now, New Green Light, I'd have never found somebody new. The last session I cut included Six Pack to Go, was shortly after Bobby White had quit and Hank had disbanded.
Billy Gray formed another band for Hank in the 60's which Bobby Garrett and Bert Riverra played and maybe a couple of others but from 1946 to 1960 I believe the Hank Thompson Steel Guitar Players to be as follows:
Lefty Nason-------------- 1946 to 1948
Dusty Stuart ------------- 1948 to 1949
Harold "Curly" Chalker 1949 to 1952
W. K. "PeeWee" Whitewing 1952 to 1955
Two steel players 1953 to August 1955.
(Bob & PeeWee)
Bobby White 1953 to 1959
I played a recording session in 1959.
I don't know the exact years for these guys but they did a superb job and are great players
Bobby Garrett 1960
Bert Riverra 1965
As for me I moved back to San Jose Area after quitting Hank in 1955 when my first child was born . He was an invalid boy "Bubba Whitewing" and I wanted to spend all of my time to raise my family, I was married in Dec. 1952 to Doye Ann Thibodeaux whom I had met in Lafayette, La. In 1951 on my first job with Lefty Frizzell. We had three other children, one daughter Demerris Whitewing, and two sons Andrus C. and Andre' Paul Whitewing.
I formed a group with the help of Bobby and Larry Black in San Jose California called the West Coast All Stars which included players Frank Hitchens, Hank Doust, Larry Murphy, Steve Stefani and a piano player that I can't recall the name. This was a very aggressive Western Swing Group. We played a lot of the Hank Thompson Band instrumentals and did a lot of our own interpretations of other big band sounds such as Stan Kentons "Opus in Chartreuse". We had a good full sound and drew good crowds.
In 1964 I moved to Lafayette, Louisiana to raise my children in a smaller community and at a slower pace and have enjoyed life here for all these years. My invalid son died in 1973 and wife Doye Ann died in 1980. My daughter sings in Orlando Florida by Disney World and if you buy a REEBOK workout tape . You will probably be listening to Demerris sing. My two sons are Petroleum Landman in the Oil Business. I am married since 1990 to Rhonda Boudreaux of Rayne, La.
I did not play music from 1971 to 1991 however, Bobby White and I have recently been playing Steel Conventions all over the country. This past year we played in St. Louis, Dallas, , Ft. Smith,. New Orleans, Saluda, South Carolina, and others, and we have enjoyed playing and seeing players that we have not seen in years. To me this is the most rewarding time of my life in musics. Roy Thomas of Maurice, La. has built me the best Guitar I've ever owned (Pedalmaster Universal) and its opened up a whole new world for me.
Thanks for the opportunity to make my comments and let you know about me and some of my friends and if you find an error in this report , do not hesitate to call. I could set here all day talking about people in the music business and hopefully we can someday get together and discuss the old times.
Respectfully yours,
W. K. "PeeWee" Whitewing